Posted: November 8, 2013


(http://abcnews.go.com)Merck's Gardasil vaccine has claimed two new victims. Two young Wisconsin sisters, Madelyne and Olivia Meylor, who are respectively 20 and 19 years old, have recently experienced ovarian failure, where their ovaries have stopped producing eggs. The two sisters claim that the HPV vaccine Gardasil is to blame. The Meylors have also developed premature menopause, causing them to suffer from insomnia, night sweats, head aches and infertility, most likely, for the rest of their lives.

According to ABC News, Mark Krueger, the attorney representing the sisters, said that this "is the first allegation of its kind to reach a hearing through the National Vaccine Injury Compensation Program, a special court established to evaluate claims of harm from vaccines."

Merck and Co., the maker of Gardasil, is denying any relationship between the girls' condition and the controversial vaccine. Gardasil has been linked to ovarian failure in at least one 16-year-old Australian girl, and it also leads other vaccines with the highest rates of miscarriages.

Tests for possible genetic causes of the condition have come back negative for both women. They now have to rely on using birth control pills or patches for hormone replacement. The hearing of their case is set for Thursday and Friday in Washington, D.C.
---
Posted: November 8, 2013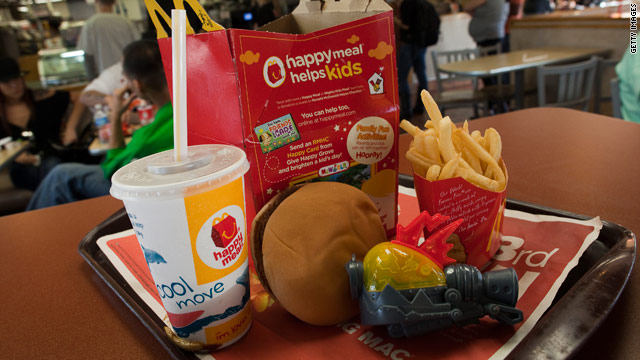 (http://www.latimes.com)Researchers from the Yale Rudd Center for Food Policy and Obesity recently analyzed the foods served by 18 fast food restaurant chains. They took into account every possible combination of menu items for a total of 5,427 meals. Out of the 12 restaurants that offered kid's meals, 11 included a side dish, such as apples, bananas, corn and other fruits and vegetables, that the researchers considered healthy. Also, more than three-quarters of the restaurants offered healthy drink choices, generally milk, juice or bottled water.

The rest of the research turned up less than positive results. Only 33 out of the 5,427 possible meal combinations that could be served to children met the recommended nutrition guidelines set by the Institute of Medicine. That means that less than one percent of the meals would make healthy choices.

This research was significant, because, according to a 2012 study in the American Journal of Preventive Medicine, one-third of children and 41% of teenagers eat fast food daily, the report notes. That can lead to a daily caloric intake increase of 126 for children and 310 for teens, a report in JAMA Pediatrics states.

You can learn more about the nutrition of restaurant meals offered to children and teens and how to make healthy choices by visiting FastFoodMarketing.org.
---
Posted: November 7, 2013
(
http://www.chrisbeatcancer.com
)Chris Wark of
ChrisBeatCancer.com
recently interviewed Isaac Keim, the grandfather of Sarah Hershberger, the 10-year-old Amish girl who has been in the news recently after Akron Children's Hospital in Ohio tried to force her to undergo chemotherapy.
After Sarah was diagnosed with leukemia, she began to receive chemotherapy treatments at Akron Children's Hospital, but both Sarah and her parents decided to discontinue the treatment after her health improved and the therapy became too painful. They have since taken care of her health using nutrition and natural medicine. Akron Children's Hospital, hungry for the money that forcing a little girl into chemotherapy would bring, has been continuously challenging the Hershbergers in court to try to force their poison into the little girl and to give guardianship over her to a nurse that had never even met her. The courts initially ruled in favor of the Hersherbergers' parental rights, but an appeals court overturned that decision.
Now, Sarah has disappeared; she has fled the country with her family in order to avoid being forced into the painful, unnecessary treatment. The hospital was allegedly being paid $1,000,000 to subject Sarah to experimental chemotherapy drugs that aren't even proven to work. In addition to that, they were making money for each round of chemo they put the little girl though.
Wark's interview of Keim gives the family a chance to reveal the truth of the situation in their own words. To listen to the interview and learn more about the Hershbergers' struggle for freedom, justice and Sarah's health, you can visit
ChrisBeatCancer.com
.
---
Posted: November 7, 2013


(http://online.wsj.com)According to the Wall Street Journal, the U.S. Food and Drug Administration on Thursday decided that trans fats should not be considered safe for use in foods, a drastic change in policy that could lead to a ban on the artery-clogging ingredient.

Trans fats raise bad cholesterol levels, lower good cholesterol levels and increase people's chances of developing heart disease.

"While consumption of potentially harmful artificial trans fat has declined over the last two decades in the United States, current intake remains a significant public health concern," FDA Commissioner Margaret A. Hamburg stated in a press release. "The FDA's action today is an important step toward protecting more Americans from the potential dangers of trans fat. Further reduction in the amount of trans fat in the American diet could prevent an additional 20,000 heart attacks and 7,000 deaths from heart disease each year - a critical step in the protection of Americans' health."

The FDA said that food companies would be given 60 days to comment on the proposed action.
---
Posted: November 6, 2013


(http://www.environmentalhealthnews.org)Drug-resistant infections are quickly becoming a distressing problem for human, driven in large part by an extreme overuse of antibiotics in humans and for livestock production. Now, new research from Tufts University's veterinary school has shown that antibiotic resistance has spread from the hospitals and farms into nature, where it is affecting wildlife.

To learn this, researchers collected around 600 samples of fecal matter from crows from four different states. After analyzing all the poop, they found that about 2.5 percent of the crows sampled had bacteria containing genes that made them resistant to vancomycin, a powerful drug used to treat difficult, hospital-acquired infections. In addition to the bacteria's vancomycin-resistance, they were also resistant to several other antibiotics commonly used in medicine and livestock feed.

The results of this study are truly worrying, as the bacteria's drug-resistance can stem from multiple sources and is hard to determine specifically. The researchers speculated that waste sites may be a potential source of the crows' bacteria. "Because birds are so mobile, it's possible they may acquire resistance genes from multiple sources in their travels," said Julie Ellis, one of the research scientists working on the project. "Maybe they visit a dumpster or sewage treatment plant one day and later a farmer's field."

This new research shows that what humans do in our own artificial environment and how we raise animals on farms can have a great impact on nature, and we need to exercise caution and reduce our use of antibiotics to help protect wildlife and human health and reduce the spread of drug-resistant bacteria.
---
Posted: November 5, 2013


(http://www.nationalreview.com)According to Larry Kudlow, the liberal entitlement-state dream is crumbling.

Writing for National Review Online, Kudlow asks these pertinent questions: "Why is it that Americans don't have the freedom to choose their own health insurance? I just don't get it. Why must the liberal nanny state make decisions for us? We can make them ourselves, thank you very much. It's like choosing a car, buying a home, or investing in a stock. We can handle it.

"So why must the government tell me and everyone else what we can and cannot buy?"

He aptly states, as noted by Charles Krauthammer and The Wall Street Journal's Dan Henninger, that Obamacare has become the greatest expansion to date of the liberal entitlement-state dream. But that is a dream that he, like many people, does not want. As a healthy 60-something-year-old, he also says, "I don't want lactation and maternity services, abortion services, speech therapy, mammograms, fertility treatments, or Viagra. I don't want it. So why should I have to tear up my existing health-care plan, and then buy a plan with far more expensive premiums and deductibilities and with services I don't need or want?

"Why? Because Team Obama says I have to. And that's not much of a reason. It's not freedom."

Obama has for years told the American people that they would be able to keep their health insurance plans if they so choose, but, as recently reported in the media, the Obama administration has known for three years that the "Affordable" Care Act's excessive, inflexible regulations would cause as many as 15 million individuals to lose their coverage.

After that news came out into the open, Obama tried placing the blame on insurance companies, rather than the stiff regulations in his signature legislation. However, it was too late, as the American people, and even facets of the mainstream media, have lost trust in the president and turned against Obamacare.

Kudlow points out the ridiculousness of Obama's statements "that so many of these existing plans are substandard 'bad apples,'" and that insurance at the state level is one of the most regulated areas of the economy. He then goes on to note the complete lack of fairness in Obamacare's attempt to redistribute wealth from the young and healthy to the elderly and diseased.

Kudlow concludes his article thusly: "Between the president's broken promises, the millions of policy cancellations, the continued website breakdowns, and the unaffordable, unfair con game between the healthy young and the sicker old, this Obamacare monster is well on its way to collapsing of its own weight. But here's the bigger point: All this is the inevitable result of massive central-planning exercises to control the economy. That's not freedom.

"No amount of rescue legislation is going to change this. It's the elections of 2014 and 2016 that will allow the American people to reject this Soviet-style planning. But I'll reference my conservative colleagues in the media once again: Obamacare represents the greatest-ever expansion of the liberal entitlement-state dream. And you know what? That dream is crumbling and dissolving before our very eyes.

"And that is freedom."

You can read Larry Kudlow's full article here. More of his articles for National Review are also available to read here.
---
Posted: November 5, 2013


(http://health.usnews.com)Researchers have published a new study in the journal Environmental Health Perspectives detailing how two pesticides classified as "organochlorines" are associated with an increased risk of endometriosis. Endometriosis is a health problem that affects 10 percent of reproductive-age women, or 5 million U.S. women, and causes the tissue lining the uterus to grow outside the uterine cavity; it can cause severe pain and infertility.

Researchers from the Fred Hutchinson Cancer Research Center analyzed 248 women newly diagnosed with endometriosis and compared them to 538 women without the disease. The study found that those who had greater exposure to two organochlorine pesticides, beta-hexachlorocyclohexane and mirex, had a 30 to 70 percent increased risk of endometriosis.

"We found it interesting that despite organochlorine pesticides being restricted in use or banned in the U.S. for the past several decades, these chemicals were detectable in the blood samples of women in our study and were associated with increased endometriosis risk," the lead author of the study, Kate Upson, PhD, said. "The take-home message from our study is that persistent environmental chemicals, even those used in the past, may affect the health of the current generation of reproductive-age women with regard to a hormonally driven disease."

Victoria Holt, PhD, the study's principal investigator, said, "This research is important, as endometriosis is a serious condition that can adversely affect the quality of a woman's life, yet we still do not have a clear understanding of why endometriosis develops in some women but not in others. Our study provides another piece of the puzzle."
---
Posted: November 4, 2013


(http://www.wnd.com)Renowned comedian Jackie Mason recently appeared in a radio interview on WABC in New York City. In it, he unleashed a fervently honest attack on President Obama's character and pervasive deceitfulness.

"It's such a ridiculous thing. The whole country's walking around wondering if this guy's really the president of a country. He sounds more like a maniac in an asylum," Mason told radio host Aaron Klein on Sunday night.

"He's saying things that nobody believes. He was always lying every day of his life. Every time he talks it was a lie. The only time he tells the truth is when you didn't hear from him."

"This is becoming so ridiculous, that even the biggest liar can't top himself," Mason said, as quoted by Joe Kovacs on WND.com. "He looks at you straight in the face, and tells you that if you want your plan, you got your plan, you keep your plan. Now, a month-and-a-half later, you got no plan, you lost your plan, and he tells you you still got a plan."

As reported by WND.com, Mason continued, saying, "He has a whole country walking around dizzy wondering who we're listening to. If this is a president of a country, how come he's the only one in America who doesn't seem to know what's going on here?

"Never did I expect a guy like this, the head of a country, to blatantly lie to your face, and then not only lie to your face, then lie about the fact that he never lied. Then lie again about the next lie he told. There used to be a time when you would worship the president, even if you didn't like him. You knew he told the truth because he's the president of a country. Now, he's the only guy in America who would have the nerve to lie this much.

"You say to yourself, 'Wait a second. Who am I listening to? Was this guy actually elected to the presidency? A man who's completely out of his mind, who's out of touch with humanity, with America, who doesn't seem to know what's going on here? Does he read a paper?'

"A guy like this should be locked up ... If he wasn't the president, he'd be in jail or in a sanitarium. He wouldn't be outside talking to people in this condition. He would be considered a danger to his own his own health, to his own life.

"The latest is that it's only 5 percent of the people, only 15 [or] 20 million people who are going to lose their plan. ... What if you shoot a guy? He's only one person out of 300 million. How come it's in the paper that you shot an innocent person and you go to jail for it? ... Since when do you destroy people and it doesn't count because it's too small a percentage?"

You can visit WND.com to listen to the entire interview, and more episodes of Aaron Klein's investigative radio program are available at his WND.com page.
---
Posted: November 1, 2013


(http://www.alternet.org)Most Americans have probably never heard of ractopamine, so you may be surprised to learn that it is used in 80 percent of US pig and cattle farming operations. Ractopamine is a growth additive drug, known as a beta-agonist, that is widely banned in other countries, but in the US, it is marketed as Paylean for pigs, Optaflexx for cattle and Topmax for turkeys.

The effects that ractopamine has on animals is already known, but its effects on humans are still a mystery. A European study in which one participant dropped out due to adverse effects found that " ractopamine causes elevated heart rates and heart-pounding sensations in humans," the Center for Food Safety (CFS) said. Other studies have shown that the drug causes rapid heart beat, birth defects and enlarged hearts in animals. Countryside magazine has reported cases of pigs being too weak to walk and their hooves falling off after being given ractopamine.

Being understandably concerned with these disturbing reports, the CFS and the Animal Legal Defense Fund (ALDF) have requested information "documenting, analyzing, or otherwise discussing the physiological, psychological, and/or behavioral effects" of ractopamine from the Food and Drug Administration (FDA). The FDA has around 100,000 pages on the drug, but they have refused to produce more than 464 pages that have already been previously released. Distraught over the administration's illegal withholding and concealment of vital public health and safety information, the CFS and ALDF have decided to sue the FDA over the matter.

Ractopamine is banned in the EU, Russia, China, Taiwan and many other countries that actually care about their citizens' health. This drug's continued use closes American meat producers out of those foreign markets and likely puts consumers in danger. Hopefully, the CFS and ALDF will succeed in their fight, and the American justice system will force the FDA to release information about ractopamine, protect consumers and actually do its job instead of idly and flagrantly wasting our tax dollars and our time.
---
Posted: October 31, 2013

(http://www.breitbart.com)As most people know, President Obama has repeatedly assured Americans that, if they like their health insurance plan, they would be able to keep it. He didn't say "if it meets certain conditions" or any other qualifiers. Now, his claims are turning out to be blatant lies, as many incensed and soon-to-be uninsured Americans are finding out. He repeated this lie throughout his 2012 re-election campaign and has probably told it to us hundreds of times since 2009. On Wednesday, he told those losing their insurance coverage to "shop around," presumably on the unreliable, broken, crashing Healthcare.gov website. New York Magazine has put together a video of 23 different occasions where Obama had openly made this false promise, so we can now plainly see his shameless, constant deception of the American public exposed.
---
Posted: October 31, 2013


(http://www.cnn.com)With bans on large soda sizes and oppressive gun control laws, New York City seems obsessed with restricting freedoms and telling its residents how they should live. And now, the New York City Council has just approved a new measure to continue the expansion of government control. On Wednesday, the council voted to approve a new anti-tobacco law that will raise the legal purchasing age of tobacco from 18 to 21.

The bill, known as "Tobacco 21," will also affect electronic cigarettes and was approved along with the "Sensible Tobacco Enforcement" bill, which, according to CNN, "will prohibit discounts on tobacco products and increase enforcement on vendors who attempt to evade taxes."

"By increasing the smoking age to 21, we will help prevent another generation from the ill health and shorter life expectancy that comes with smoking," Mayor Michael Bloomberg said in a statement on Wednesday.

While it is true that cigarettes represent a significant threat to public health, they much more affect the consumers who make the conscious choice to smoke them. Smoking leads to many potentially deadly health conditions, including emphysema, bronchitis, atherosclerosis, high blood pressure and several types of cancer. However, tobacco products are not the only consumer items that cause chronic, health-debilitating diseases. Children at any age are able to go and purchase an artery-clogging hamburger from McDonald's. Anyone is completely free to engorge themselves on aspartame, high fructose corn syrup and carcinogenic artificial dyes in Pepsi and Coca-Cola's sodas. Now, New York has decided that 18-year-olds are mature enough to get married, kill babies (through abortion), join the military and kill people from other countries, or die trying, drive a two-ton, speeding hunk of metal down a crowded street and vote for elected officials, but they apparently don't possess the critical thinking skills necessary to decide whether to smoke a cigarette or not.

While it is one thing to restrict smoking in public places, which might actually protect public health, it is an entirely different matter to restrict a person's freedom and tell an adult that they are no longer allowed to make their own health decisions. Especially if they were to exercise that choice privately, in a way that doesn't even affect anyone else.
---
Posted: October 30, 2013


(http://www.good.is)Voting day, November 5, is coming up fast for I-522, a Washington initiative that would mandate labeling of packaged foods containing genetically engineered ingredients, also known as genetically modified organisms (GMOs). The bill is similar to Prop 37, which was defeated in California last year after national corporations, such as Monsanto, DuPont and PepsiCo, donated $46 million to oppose it. Supporters of consumers' fundamental right to know what they are purchasing are worried that I-522 might see similar defeat, as those same profit-obsessed companies have contributed over $7.2 million to defeat the initiative, compared to the $6.9 million raised so far by its proponents.

One of the ridiculous, misleading claims being espoused by the perpetuators of the status quo is that, as if manufacturers didn't already change their labels often for advertising or regulatory purposes, GMO labeling would somehow drive up the price of food products, a claim that has been debunked several times by independent researchers. Now, Dr. Bronner's Magic Soaps, a popular company that makes and sells organic soap, has changed their iconic label to help spread the word for the Yes on 522 campaign.

The soap company has done this in the face of deceitful reports about the huge increase in costs that changing a label would supposedly cause. The soaps are organic and non-GMO, meaning that their labeling would not even be affected by the initiative. Despite this, they have been a huge supporter of the campaign, being one of its top donors, with contributions totaling more than $1.7 million. Dr. Bronner's Magic Soaps is dedicated to a number of causes, consumers' rights to know and transparent labeling being among them.

From "Why Dr. Bronner's is on a Soapbox for GMO Labeling" on Good.is:

We cap executive compensation at five to one per our lowest paid position, and dedicate profits not needed for the business to charitable and activist causes. We have prioritized labeling of genetically modified foods alongside supporting at-risk youth programs, re-commercializing industrial hemp, animal advocacy, fairness in trade, and other worthwhile efforts. My brother and I wrote this new GMO info label in the tradition of our grandfather, Dr. Emanuel Bronner, and his "All-One" philosophy, and on behalf of our commitment to healthy and sustainable agriculture, corporate accountability, and the consumers' right to know - all of which embody the social and ecological principles that inform the philosophy printed on the original castile liquid soap labels.

The I-522 campaign is an important issue for everyone, even if you don't live in Washington. If it succeeds, it could trigger further action around the country to help protect consumers and establish transparent labeling regulations. GMOs have been linked to a wide variety of health and environmental problems, and even if they hadn't been, there is no reason that they should be hidden in the foods we ingest. Join Dr. Bronner's, Natural News and thousands of other concerned organizations and individuals in supporting the Yes on 522 campaign to ensure a healthier, safer and more informed future for us all.
---
Posted: October 30, 2013


(http://www.breitbart.com)"The website never crashed. It is functional, but at a very slow speed and very low reliability," Department of Health and Human Services Secretary Kathleen Sebelius said of the Healthcare.gov website during her testimony before Congress on Wednesday.

There are several problems with Sebelius' claim. First of all, the website could hardly be called "functional," considering that it hasn't functioned for millions of Americans and that it certainly doesn't function as it was intended or promised to. Secondly, her statement, "at a slow speed and very low reliability," doesn't make the situation seem any better. According to Sebelius, the website functions; it's just incredibly slow and unreliable. At least it never crashed. Oh, wait.

Directly contradicting Sebilius' statement, Breitbart reported, "Just minutes before Health and Human Services Secretary Kathleen Sebelius was set to testify on Capitol Hill, the Healthcare.gov site crashed. Spot checks verified that the State of North Carolina, Virginia, Utah, Washington, Oregon, Idaho, Nevada, Colorado, New Mexico, New York, Maryland, Vermont, Connecticut, Massachusetts, Hawaii, Kentucky, Minnesota, and New Hampshire are all down - which likely means the entire federal site is down."

Healthcare.gov was down for at least thirty minutes into Sebelius' testimony.

Hm, that's ironic. Kind of like how it's ironic that the Obama administration was warned a month in advance that the site was not ready to launch but then decided to proceed with the launch anyways. And then acted like 1) nothing was wrong, and 2) they had no idea about the website's problems. Or ironic in the way that Obama lied to millions of Americans, repeatedly promising us all for years and over two presidential elections that people would be able to keep their health insurance plans if they so choose, which has turned out to not be true at all, as many Americans are now losing their health care plans or being forced to pay new skyrocketing costs.
---
Posted: October 29, 2013


(http://www.bbc.co.uk/news/health-24710089)Researchers from the Karolinska University Hospital in Stockholm, Sweden, have recently linked gardening to living a longer life. The study, "The importance of non-exercise physical activity for cardiovascular health and longevity," was published in the British Journal of Sports Medicine on October 28, 2013.

The Swedish researchers noted that elderly people tend to be more sedentary and get less exercise than other age groups, so they decided to examine the association between non-exercise physical activity and the risk of a first cardiovascular disease event and total mortality. The researchers examined 4232 60-year-old individuals; physical activity and exercise habits - including fixing up the car, home repairs, cutting the lawn, blackberry picking and going hunting - were assessed by a questionnaire, and cardiovascular health was evaluated through physical examinations and laboratory tests. The participants were then followed for an average of 12.5 years.

The results of the study showed that those who were more active, with or without exercise, had a lower risk of cardiovascular disease and generally lived longer. "Being active reduced the risk of a heart attack or stroke by 27%, and death from any cause by 30%, during the 12-year study," BBC News reported.

This study shows what a phenomenal difference that physical activity can make on a person's health. The health benefits are obviously not just from intense exercise but from being active. Activities around the house, such as gardening, can extend one's life by years. Sedentary lifestyles are often linked to health problems like obesity, diabetes and cardiovascular disease. So one should look for something to do everyday and always be active to ensure a long, happy, healthy life.

The study's abstract concluded, "A generally active daily life was, regardless of exercising regularly or not, associated with cardiovascular health and longevity in older adults."
---
Posted: October 28, 2013


(http://www.motherjones.com)The American Council on Science and Health (ACSH) claims on their website that their objective "is to restore science and common sense to personal and public health decisions in order to foster a scientifically sound and sensible public health policy for the American people." However, what that means for them apparently doesn't mean the same thing for other people, as they routinely oppose introduced measures to protect public health. It often finds itself fighting against public health, consumer safety and environmental advocates. It has defended hydraulic fracturing, a controversial natural gas extraction method, saying that "fracking doesn't pollute water or air." The ACSH has downplayed the role that sugary beverages play in obesity and diabetes, and it has denied the harmful effects of toxic chemicals like bisphenol A (BPA) and pesticides such as atrazine.

The ACSH asserts that its conclusions are based off of unbiased science, but internal financial documents recently provided to Mother Jones show how the organization depends on funding from industries that have financial stakes in shaping scientific debate.

As reported by Mother Jones, "from July 1, 2012, to December 20, 2012, 58 percent of donations to the council came from corporations and large private foundations. ACSH's donors and the potential backers the group has been targeting comprise a who's-who of energy, agriculture, cosmetics, food, soda, chemical, pharmaceutical, and tobacco corporations. ACSH donors in the second half of 2012 included Chevron ($18,500), Coca-Cola ($50,000), the Bristol Myers Squibb Foundation ($15,000), Dr. Pepper/Snapple ($5,000), Bayer Cropscience ($30,000), Procter and Gamble ($6,000), agribusiness giant Syngenta ($22,500), 3M ($30,000), McDonald's ($30,000), and tobacco conglomerate Altria ($25,000). Among the corporations and foundations that ACSH has pursued for financial support since July 2012 are Pepsi, Monsanto, British American Tobacco, DowAgro, ExxonMobil Foundation, Phillip Morris International, Reynolds American, the Koch family-controlled Claude R. Lambe Foundation, the Dow-linked Gerstacker Foundation, the Bradley Foundation, and the Searle Freedom Trust."

Dr. Gilbert Ross, the group's executive director, who previously lost his medical license after defrauding New York State's Medicaid program of around $8 million, did not dispute the financial documents. The ACSH doesn't disclose its funding sources, because "the sources of our support are irrelevant to our scientific investigations," Ross said. "Only science-based facts hold sway in our publications, even if the outcome is not pleasing to our contributors."

The ASCH claims that it doesn't accept donations from corporations or groups for specific research projects, but a March 1992 internal memo obtained by Consumer Reports revealed that ACSH staffers would ask the Calorie Control Council, a trade group made up of diet food and drink companies, and a Johnson & Johnson subsidiary that owned the US marketing rights to Splenda for contributions in return for a research paper touting artificial sweeteners.

The documents elucidate ACSH staffers' methods of approaching potential corporate financial contributors with pitches aimed at specific issues. For example, last year, the documents note that the group planned to "seize opportunities to cultivate new funding possibilities (Prop 37, CSC, and corporate caving, etc.)." Proposition 37 was the failed 2012 California ball initiative that would have mandated GMO food labeling. "CSC" means "Campaign for Safe Cosmetics," suggesting that ACSH planned on approaching cosmetic companies for funding based on the perceived consumer safety of their products.

According to Mother Jones, the ACSH "received a $37,500 donation in 2012 from the American Petroleum Institute related to 'fracking.' That year, it also received other energy industry funds, including $18,500 from Chevron and $75,000 from the ExxonMobil Foundation."

The ACSH was once against smoking; however, the new documents reveal that the organization planned to receive a total of $338,200 from tobacco companies between July 2012 and June 2013. The documents also list Reynolds American and Phillip Morris International as expected to make contributions of $100,000 each in 2013. The ACSH has recently given increased support for e-cigarettes and other forms of smokeless tobacco, and the documents show that it is using this newly developing industry to seek more funding.

You can read the entire report, http://www.motherjones.com by Andy Kroll and Jeremy Schulman at Mother Jones. Click here to see the ACSH financial documents.
---
Posted: October 25, 2013


(http://market-ticker.org/akcs-www?post=225369)The Obamacare website, Healthcare.gov, has a new, actually useful, feature. The federal government recently released a data table displaying all 78,437 records for the different cost options of each county and state under the Obamacare exchange program.

Writing for market-ticker.org, Karl Denninger analyzed the data tables and brought up several interesting statistical facts.

"First, if you're '27', the average premium is $266.20/month or $3,194.40 per year," he wrote. This is especially distressing considering the fact that the average 27-year-old doesn't have an extra $3,200 in disposable income to spend; as it is, many of them are already struggling to cover mandatory expenses such as food and shelter.

Even worse than that, the "'average' 50 year old premium, again, for single coverage, is $452.87, or $5,434.44/year," Denninger reported. These prices are likely a better improvement for the 50-year-olds than what the 27-year-olds are getting, especially for those who already have illnesses.

Smokers' premiums are drastically surcharged at a reported rate of 1.5 times that of non-smoker premiums. At least that might convince people to switch to healthier habits.

Parents should be worried too, as Denninger writes, "If you are a single parent with kids (rather common) the premium on average is $610.23/month or about $7,300, and if you're a couple it's $647.86 (again, $7,774 annually.)"

Some people will receive tax credits to offset the new expenses; however, this doesn't actually make the price decrease, it simply means that the federal government will cover part of the cost, with tax money collected from you and your neighbors.

Again, these prices are for "average 50-year-olds," those over 50 will have to pay much more for each year of age. Reports show that couples who are 59 could be faced with bills in the area of $15,000.

These deals may be great for sick people, but they certainly screw over young, healthy, hard working Americans. Someone who has an expensive health condition might be ecstatic about the idea of paying $3,200 a year and getting $30,000 or more in treatment costs, but it is hardly fair to the people paying that amount or more and receiving nothing in return.

That is another major downfall to Obamacare: it relies on forcing young people to sign up and give away their wage slave earnings for false medical security, or else be threatened and fined by the IRS. If the people that don't benefit from this wealth redistribution policy refuse to pay into it, the system would collapse on itself.

Finally, it should be remembered that even though your government is going to force you to pay hundreds or thousands more dollars than necessary, you don't even get to choose how that exorbitant amount is spent. It will be spent in the conventional medical sick care industry. It won't help you or any health-conscious individuals save money on preventative medicine, nutritional supplements or functional foods, products that are saving peoples' health and actually reducing the financial burden on the medical system. That, in contrast to the popular saying, is like having your cake taken away from you and then eaten by someone else.
---
Posted: October 24, 2013


(http://www.cornucopia.org)As many readers already know, Washington's I-522 is a citizen's initiative on the November 5 ballot that would mandate GMO labeling on food packages in the state. It came about as an effort to make the food industry more transparent and to ensure consumers' right to know what is in the products they buy and the foods they ingest. Of course, that is perceived as a huge threat to certain agricultural, chemical and food businesses, which have spent over $7.2 million on a campaign of disinformation. Many of those companies hid behind the Grocery Manufacturers Association (GMA) to illegally launder money for their campaign against Washington citizens and to conceal their identities, fearing public backlash could hurt their sales. Washington's Attorney General, Bob Ferguson, filed a lawsuit demanding the GMA reveal the identities of the donors in compliance with state law.

With the identities of the GMA members revealed, The Cornucopia Institute has released an up-to-date infographic detailing the financial expenditures of both the supporters and opponents of I-522.

"Consumers might be surprised to find out that some of their favorite organic and natural brands, hiding behind their lobbyist, the Grocery Manufacturers Association, are contributing bushel baskets of cash towards thwarting their right to make informed choices in the supermarket," says Mark Kastel, Cornucopia's Codirector.

After Prop 37, a similar GMO labeling measure, was defeated in California last year, the Cornucopia Institute exposed many prominent organic and "natural" brands that actually oppose GMO food labeling, including Kashi, Cascadian Farms and Muir Glen and Santa Cruz and Knudsen, owned by Kellogs, General Mills and Smucker's, respectively. Because of the negative publicity this brought, companies tried to hide behind the GMA to oppose the Washington initiative. Most of the campaign contributions against the initiative come from large, out-of-state businesses that fear losing profits, while donations in support of consumers' rights have mostly come from organic brands and concerned individuals, who have raised nearly $6.9 million.

"Consumers and food citizens are increasingly interested in 'voting with their forks,' and many want to support companies that share their values," observes Jason Cole, a researcher for Cornucopia who compiled the data for the infographic. "We think these conscious eaters will appreciate the infographic created by Cornucopia to help them make their purchasing decisions."
---
Posted: October 24, 2013


(http://www.philly.com)When an expecting mother is HIV-positive, doctors normally put the pregnant woman on two antiretroviral medications in order to avoid having the virus be transmitted to their unborn children. However, in one case from Mississippi, doctors were unaware of the mother's HIV infection until after she gave birth to a little girl, who was thus born with the virus.

The little girl's pediatrician, Dr. Hannah Gay, hence launched HIV treatment almost immediately, just 30 hours after she was born. Gay also decided to use a combination of three antiretroviral drugs, all at doses commonly used to treat HIV-infected infants. Repeated tests showed that the treatment lowered the levels of HIV in the infant's blood until, at 29 days, it reached undetectable levels. Treatment continued over until the girl was 18 months old, at which point doctors lost track of her and treatment ceased.

It was not until 10 months later that the doctors next saw the child. Repeated standard HIV tests were performed on the child, none of which detected the virus in her blood. The child is now three tears old and still appears to be cured; however, according to philly.com, "A couple of tests have found very low-level indications of HIV in the girl's blood, but doctors cannot tell if they are false positives or simply remnants of the eradicated virus." Because of this, researchers say that the girl is in remission rather than cured.

The two important factors that led to the newborn's successful treatment appear to have been the combination of drugs used and the timing with which treatment began. This case could help improve treatment for other infants born with HIV, but is unlikely to help adults who acquire the virus, since they usually don't become aware of it until much later. As reported by philly.com, "Based on this girl's case, a federally funded study set to begin in early 2014 will test the early treatment method to determine whether the approach could be used in all HIV-infected newborns."
---
Posted: October 23, 2013


(http://www.cbsnews.com)CBS News recently unveiled yet another problem with Healthcare.gov: A new online feature stemming from the Obama administration's efforts to improve the website can dramatically underestimate insurance costs.

The administration's latest attempt to deceive the American public into believing that Obamacare's implementation is going smoothly lumps potential customers into two age categories: 49 or under and 50 or older. The prices it shows those in the 49 or under group are based on what a 27-year-old would pay, while those in the 50 or older category see prices for 50-year-olds. This means that a lot of people, especially those who are not 27 or 49 years old, are getting wrong, misleading price estimates. In some cases, people could have to pay twice what the website claims for them.

Jonathon Wu, an industry analyst, says that this is "incredibly misleading for people that are trying to get a sense of what they're paying."

CBS News analyzed the case of a 48-year-old woman from Charlotte, N.C.: According to HealthCare.gov, she would pay $231 a month, but the actual plan on Blue Cross and Blue Shield of North Carolina's website costs $360, more than 50 percent higher. The difference: Blue Cross and Blue Shield requests your birthday before providing more accurate estimates.

The difference between estimates and actual costs are even more shocking for older Americans. A 62-year-old, also from Charlotte, looking for the same basic plan would see on Healthcare.gov a price estimate of $394, while the actual price is $634.
---
Posted: October 22, 2013


(http://townhall.com)On Thursday, Alliance Defending Freedom attorneys representing Jane Norton, the former executive director of the Colorado Department of Public Health, filed a lawsuit against Rocky Mountain Planned Parenthood. The lawsuit alleges that Colorado government officials have allocated $14 million from taxpayers for Planned Parenthood funding, clearly violating a voter-approved amendment to the state's constitution which prohibits subsidizing abortions.

According to state legislation that was approved by voters twice, "No public funds shall be used by the State of Colorado, its agencies or political subdivisions to pay or otherwise reimburse, either directly or indirectly, any person, agency or facility for the performance of any induced abortion...."

However, as the Norton v. Rocky Mountain Planned Parenthood complaint states, "Upon information and belief, since about January 15, 2009 to the present date, the Colorado Government Defendants and other Colorado government agencies have provided approximately $14 million in public funds to Defendant Rocky Mountain Planned Parenthood and thereby have, in violation of Colorado's Abortion Funding Prohibition Amendment, directly or indirectly subsidized Planned Parenthood Services' abortion operations."
<<
>>