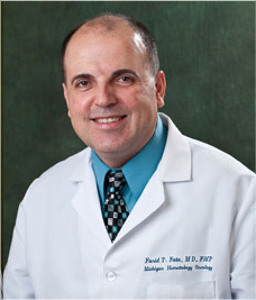 (
http://www.sourcenewspapers.com
) Dr. Farid Fata, a 48-year-old Michigan oncologist, was arrested last week and accused of stealing millions of dollars from the federal government through fraudulent Medicare claims. Fata is accused of submitting fraudulent claims to Medicare, as well as falsifying documents and directing others to do the same. In one incident, Fata is accused of forcing a patient who fell and hit his head to undergo chemotherapy before receiving medical treatment for his head injury. The patient later died from the head injury.
Fata owns and operates Michigan Hematology Oncology Centers, which billed Medicare for approximately $35 million over a two-year period.
According to a release from the office of U.S. District Attorney Barbara McQuade, authorities believe that Fata issued the fraudulent claims for unnecessary services "including chemotherapy treatments, Positron Emission Tomograph scans and a variety of cancer and hematology treatments for patients who did not need them."
"The complaint further alleges that Dr. Fata directed the administration of unnecessary chemotherapy to patients in remission; deliberate misdiagnosis of patients as having cancer to justify unnecessary cancer treatment; administration of chemotherapy to end-of-life patients who will not benefit from the treatment; deliberate misdiagnosis of patients without cancer to justify unnecessary hematology treatments; fabrication of other diagnoses such as anemia and fatigue to justify unnecessary hematology treatments; and distribution of controlled substances to patients without medical necessity."
In another instance, a patient came to Fata's care center with extremely low sodium levels. Dr. Fata again forced the patient to receive unnecessary chemotherapy before taking the patient to the emergency room to be hospitalized.
"I was disgusted and I was still sitting in the car in the parking lot and I was truly in tears just because of what I saw and how patients were getting chemotherapy," said Angela Swantek, an oncology nurse who filed the complaint.
Fata's attorney says his client is innocent. He also claims that federal agents have been duped by disgruntled employees.
A magistrate judge said Fata could be released from jail under strict conditions, but the U.S. attorney's office is appealing, claiming he may attempt to flee the country. Prosecutors say they want the current $170,000 bond to be increased to $9 million and for it to come from a "legitimate" source.