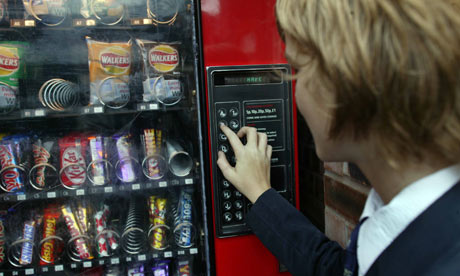 Nine out of 10
academies
are selling pupils junk food such as crisps (chips), chocolate and cereal bars that are banned in maintained
schools
to protect children's health, research has revealed.
The findings from a study by the School Food Trust (SFT) contradict the education secretary
Michael Gove
's
claim that the academies he champions are following the high
nutritional standards introduced in 2008-09 after the chef Jamie Oliver
exposed how unhealthy many school lunches were.
The research shows
89 out of 100 academies were selling at least one of the snack foods
high in sugar, salt or fat that were outlawed by Labour to rid schools
of products that were bad for children and damaging their concentration.
Their sale in dining halls, tuckshops and vending machines is exposing
children to temptations that will normalise consumption of sweet treats,
campaigners warned.
Read more:
http://www.guardian.co.uk