Posted: March 10, 2014


(http://www.change.org)Amazon is a huge, innovative company which has contributed much to the world, including changing the face of self-publishing by implementing their Kindle Direct Publishing and CreateSpace platforms. Thanks to that, anyone can easily and quickly publish books using Amazon's free tools. Unfortunately, a relatively unseen issue within Amazon's system has been growing: many of these self-publishing authors have been the target of an incredible amount of bullying and harassment

One reason that this bullying and harassment has been able to take place is the complete anonymity allowed on Amazon's platform. While some have seen this anonymity as a good thing, allowing anyone to freely voice their opinion without fear of retaliation, it has unfortunately allowed people to express inhumane cruelty through abusive online comments. If users' comments were matched with their actual identities, then much of the bullying and harassment would likely cease, as people would then be held accountable for what they say. To this end, Todd Barselow, the senior editor at Imajin Books, has started a petition addressed to Amazon CEO Jeff Bezos urging to the company to protect authors by removing anonymity and requiring identity verification for making reviews and participating in forums.

The petition has been endorsed by best selling author Anne Rice, who said, "My experience with the gangster bullies in the Forum has been very bleak and ugly. I post there under my own name. They blatantly violate [Amazon's] guidelines with personal insults and harassing posts." She also said that a lot of the offending users are probably "obsessive abusers who have found some sort of dark home on Amazon tormenting writers" and she urges the company to take action.

What the petition's supporters "would like to see happen is for Amazon to revise their policies regarding anonymity when it comes to writing product/book reviews and for participation in the forums. Reviewers and forum participants should not be anonymous. By removing their anonymity and forcing them to display their real, verified identities, I believe that much of the harassment and bullying will cease. It may continue elsewhere on the web, but not on Amazon, the largest online retail marketplace in the world, where it really counts. Buyers of products on Amazon must have their identities verified, so it should be an easy transition to implement a policy whereby reviewers and forum participants must also have their identities verified."

If you want to help end the abuse of self-publishing authors on Amazon forums by signing the petition, click here. For those who do: "please include your experiences, briefly, if you have had any dealing with bullies and harassment on Amazon, whether it be in a book/product review or in the forums on Amazon. You can do this in the box labeled 'Why is this important to you?' just under where you sign the petition." And remember to be civil!

---
Posted: March 6, 2014


(http://www.fool.com)Genetically modified organisms (GMOs) threaten to cause "an irreversible termination of life at some scale, which could be the planet," according to Nassim Taleb, an author and distinguished professor of risk engineering at New York University who made a fortune after disasters like September 11 and the Great Recession.

Taleb recently made his feelings on GMOs known in a paper that is available to the public, though still in draft form. Taleb expresses concern not for the potential health effects of GMOs but for the risk they carry of ending all life on Earth. A single GM seed type has a miniscule chance -- e.g., 0.1 percent -- of causing the breakdown of the ecosystem that all life depends on, also called ecocide. With this one type of seed, it is highly unlikely that total ecocide would ever occur; however, with increasing amounts of GM seed varieties comes cumulative risk. For example, if 100 new GM seed types are produced, then that 0.1 percent chance suddenly becomes a 10 percent chance of global life-ending catastrophe.

The associated risks vary for different seeds, and a huge number of factors are involved, but what Taleb's paper stresses is that these small odds add up over time so that "something bound to hit the [ecocide] barrier is about guaranteed to hit it."

Click here to read a report by The Motley Fool's Brian Stoffel explaining Taleb's paper in greater detail. The draft form of the paper, "The Precautionary Principle," is available to download as a PDF document here.
---
Posted: March 5, 2014


(http://www.latimes.com)Smart Balance recently announced that it will phase out genetically modified ingredients used in their butter-like spreads. The company said that the process should be completed in early summer of this year and won't cause an increase in costs.

"I've been in the food industry for 35 years. I have never seen a consumer issue come on this fast," said Stephen Hughes, chairman and chief executive of Smart Balance's parent brand, Boulder Brands, according to the LA Times. "Forty-three percent of our consumers want to see a non-GMO Smart Balance."

GMO labeling initiatives were extremely popular with consumers in California and Washington State, but they were defeated after food companies poured millions of dollars into misinformation campaigns. Over 60 countries around the world require GMO labeling, which is something sought after by 93 percent of all consumers, Hughes admitted. He also said that the move was being taken to appeal to consumer demand, not for safety reasons.

Smart Balance already has non-GMO Natural Peanut Butter, and the "company is considering converting other products, including its mayonnaise dressing and cooking spray oils," the LA Times reported.
---
Posted: March 4, 2014


(http://news.yahoo.com)After the March 2011 earthquake and tsunami crippled the Fukushima Daiichi nuclear power plant in Japan, an independent investigative committee set up by the government concluded that the massive release of radiation from reactor meltdowns was a "man-made disaster" that resulted from issues in the country's corporate culture.

Tens of thousands of Japanese people are unable to return to their homes due to radioactive contamination; there lives have basically been destroyed. Seeking compensation, assistance and someone to take responsibility for the disaster, many have filed lawsuits against TEPCO and the Japanese government for negligence regarding the safety and operation of the nuclear plant. However, prosecutors are now disregarding the earlier independent investigation and have dropped all charges against TEPCO and the Japanese government, leaving no one accountable for the more than 80,000 residents who are unable to return home.

Hundreds rallied in Tokyo to protest the prosecutors' decision. Ruiko Muto, a chief rally organizer at the protest, said, "We are determined to keep telling our experiences as victims to pursue the truth of the accident, and we want to avoid a repeat of the accident in the future."
---
Posted: March 3, 2014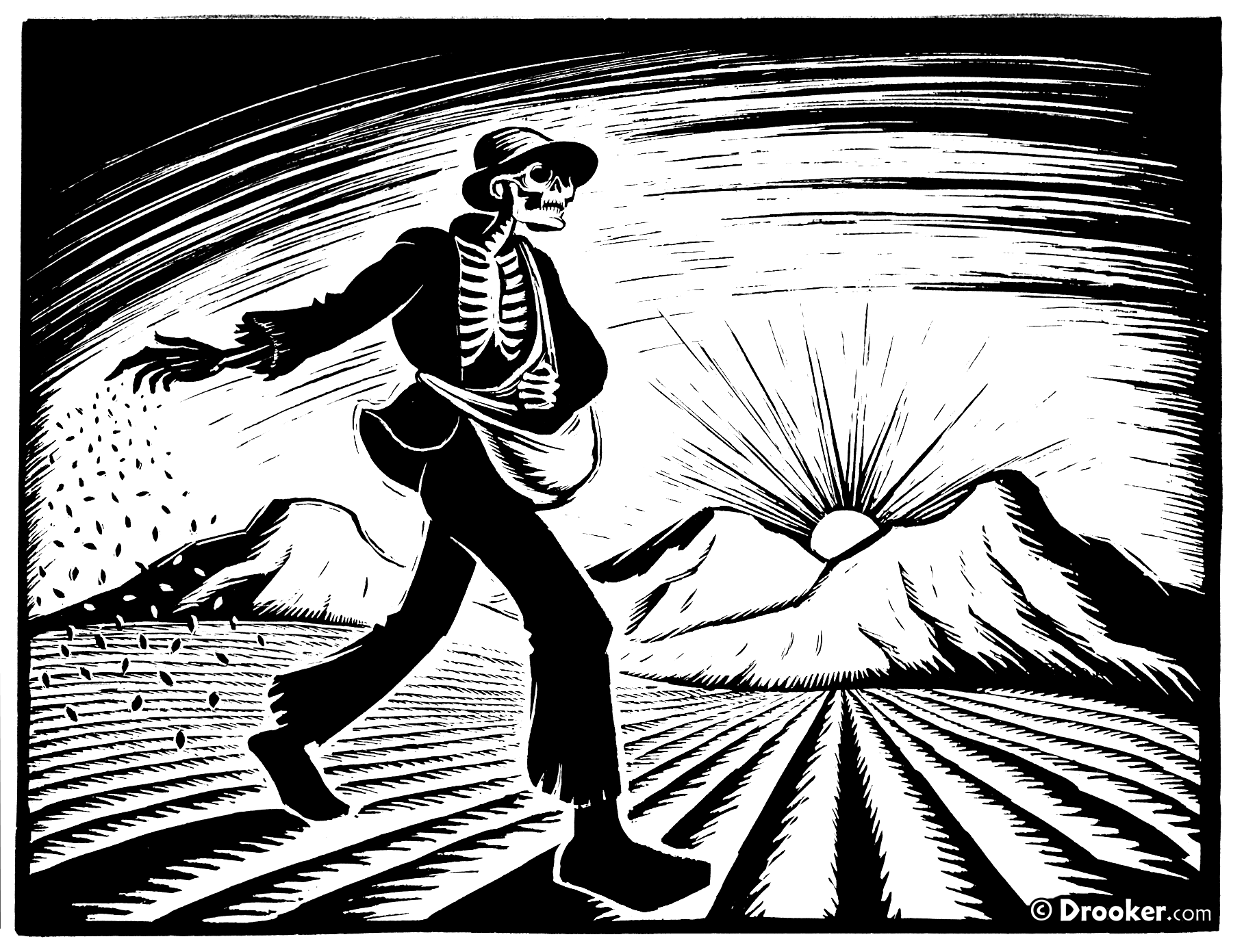 (http://www.etcgroup.org)Sign the petition to keep Brazil's ban on Terminator seeds in place!

"Terminator" seeds, crops whose seeds have been genetically engineered to die at harvest instead of being replantable, have long been a source of controversy and have been banned in Brazil. Since time immemorial, farmers have saved seeds to reuse during the next planting season, but biotech companies created this unholy atrocity in order to force farmers to continuously buy their product with threats of bankruptcy and starvation.

In 2007, a bill, PL 268/2007, was introduced in the Brazilian congress to do away with the country's ban on Terminator seeds. Global protests and a petition boasting nearly 20,000 signatures temporarily halted that bill in October 2013. The bill began to move again just before Christmas now, but was stopped when more "than 30,000 people and organizations around the world signed a protest letter calling on the Brazilian government to uphold the UN moratorium on the commercialization of Terminator," the ETC Group wrote.

In late February, "sources in the Brazilian Congress warned that the Bill might slip through during a session that could be held during Carnaval next week. ... If the pro-Terminator Deputies can pull together a quorum in the [Judiciary] Commission, the Bill could pass virtually unnoticed until it appears for final vote in Congress sometime thereafter. (The Bill is more likely to be blocked in the Commission than in the full Congress.)"

"[T]here are strong rumors (but no evidence) that, for some deputies, passing the Terminator Bill could result in substantial donations from major global seed companies to bolster their election campaigns," the ETC Group reported after its Latin America Director, Silvia Ribeiro, visited the Brazilian Congress.

Brazil's agricultural research agency, EMBRAPA, which has ties with and receives "donations" from multinational agricultural companies, has defended the interests of such corporations throughout the debate and says that it approves of the use of Terminator seeds in bio-reactor crops, which would be allowed if PL 268/2007 is passed.

Independent scientists and organizations have pointed out though that "bio-reactor" can refer to any crops intended for industrial markets, which could include "sugarcane, maize, soybeans and even trees, and that this argument is only a pretense to overturn the ban and break the international moratorium."

All those who wish to help prevent the destruction of the moratorium on Terminator seeds and who want to help protect farmers, biodiversity and food sovereignty should sign the petition here!
---
Posted: February 28, 2014
Video recording of Supreme Court sessions has always been prohibited. The reason for that,
CNN
says, is "that cameras would upset the personal dynamic between [the justices] that make [
sic
] oral arguments so unique and useful to their later deliberations and opinion-writing." Others say that, if judges knew they were being recorded and watched by the public, then their judiciary decisions might begin losing their objectivity.
Well, history has recently been made with a video secretly recorded in the courtroom in 2013 being posted to YouTube for the world to see. The video is of a session involving the case
Shaun McCutcheon
v.
Federal Election Commission
, which is challenging the campaign donation limits.
The video was shot by 99 Rise, an activist group that works to protect democracy against corruption, and features its cofounder Kai Newkirk standing up in protest, as he shouts:
"I rise on behalf of the vast majority of the American people who believe that money is not speech, corporations are not people and our democracy should not be for sale to the highest bidder. Overturn Citizens United. Keep the cap in McCutcheon. The people demand democracy."
Newkirk was quickly escorted out of the chamber, and the justices ignored his protest. But now the video is out for the world to see his act of bravery. Watch the video above for the first instance of footage ever recorded in the Supreme Court and coverage by
The Young Turks
.
---
Posted: February 26, 2014


(http://hernandotoday.com)Commissioner Diane Rowden of Hernando County, Florida, recently made a motion to consider mandatory fluoridation of the county's water supply, but she was impressed by the response she got from the community.

As expected, there were pro-fluoride "experts" and dentists extolling the "benefits" of adding industrial waste to drinking water, but the majority of those who attended the two-hour debate on the matter were opposed to fluoridation. At the end of the meeting, not a single person chose to second Rowden's motion, which thus died.

Knowledgeable citizens spoke to the commission about the science-proven dangers of ingesting fluoride, including dental fluorosis, weakened bones and lowered IQ. They also said that people should have the right to choose for themselves what to put in their bodies, and water fluoridation would amount to forced medication.

According to Hernando Today, "Retired doctor Robert Broe said not only is fluoride harmful when ingested by mouth but it is absorbed into the skin and ultimately the bloodstream when showering."

If the water were to be fluoridated, then most of it would not even go into people's mouths. Susan Goebel-Canning, the county's director of environmental services, said that between 85 and 98 percent of the fluoridated water would end up in irrigation and sewage, thus posing an environmental risk in addition to health concerns.
---
Posted: February 25, 2014


(http://www.newswithviews.com)Author and radio talk show host Paul McGuire recently wrote an article about the disturbing Orwellian trend being taken by the mass media and how "news" these days is often delivered by "robot journalists" who convey political propaganda.

McGuire writes, "Although there are still a few free thinking and independent journalists, most of the others could be human-like robots resembling the technology portrayed in the movie Her."

He then cites Google Artificial Intelligence expert Ray Kurzweil, who wrote, "By 2029, computers will be able to understand our language, learn from experience and outsmart even the most intelligent humans"

Since radio and TV personalities basically just read an approved script from a teleprompter, they might as well be robots, and one day, like factory workers, they will be replaced by actual robots that can do the job more quickly and cheaply and without question.

The most important aspect of the covert nature of the Orwellian mass media is not in the news that they cover but in the news that they do not. While "Freedom of the Press" is generally the pubilc's top concern when it comes to media, who controls the content and decides what is newsworthy is the real danger to freedom. "The very fact that major news organizations and media personalities choose to ignore or downplay serious news stories creates the greatest form of censorship," McGuire writes.

One such case of censorship, perhaps the most important, involves the Federal Reserve System. "The Federal Reserve Act, signed by President Woodrow Wilson in 1913, essentially turned our entire monetary system over to an independent cartel of international banking families," reports McGuire. "Yet you will never hear, see, or read an in-depth and detailed news media coverage of the most important financial institution in our nation. It is impossible to understand anything that has to do with our economy, debt, budgets, inflation, recession, global finance, jobs, outsourcing, and the U.S. dollar without a thorough understanding of the Federal Reserve System."

To read McGuire's complete article, visit NewWithViews.com. Also, be sure to look out for his new book A Prophecy of the Future of America, in which he deals with the issue of "robot journalists" who either are being controlled or know the truth and choose to conceal it.
---
Posted: February 25, 2014


(http://news.yahoo.com)Mt. Gox, which was once the largest Bitcoin exchange by volume, went dark on Tuesday in what could be a critical blow to the virtual currency. The following message was posted by the Mt. Gox team on the website:

"In light of recent news reports and the potential repercussions on MtGox's operations and the market, a decision was taken to close all transactions for the time being in order to protect the site and our users. We will be closely monitoring the situation and will react accordingly."

Withdrawals from Mt. Gox were halted earlier this month after the company detected "unusual activity." The chief executive of the Bitcoin exchange told Reuters on Tuesday that the business was "at a turning point."
---
Posted: February 25, 2014


(http://www.cornucopia.org)According to the Cornucopia Institute, Dean Foods and WhiteWave have for years violated organic farming standards, using factory farms to supply milk for the Horizon Organic brand. WhiteWave, which recently became its own company, has cast aside organic values and cheapened products to increase corporate profits. So when representatives from the company planned to make an appearance at an upcoming organic education conference, the Cornucopia Institute responded with the following petition and news release to protect the reputation and values of organic agriculture:

After years of pillaging the conventional dairy industry, Dean Foods recently spun-off their branded products division (WhiteWave), including the Horizon and Silk labels. The company has cheapened organics (see above).

Now, at the nation's largest organic farming conference, the company will again have a prominent role. This Saturday, at the Midwest Organic and Sustainable Education Service (MOSES) Conference, WhiteWave's corporate representative will seek to teach farmers how to communicate with organic consumers and understand "consumer demographics, behaviors, attitudes, and mindsets."

How will this WhiteWave executive help us better understand today's organic consumer? Will she encourage us to cheapen production costs by sourcing feed and ingredients from China or factory farms? Will she instruct us on how to break contracts with family farmers? Or market new non-organic products with the same name and nearly identical packaging that's already familiar to organic consumers?

Enough is enough! Sign the petition asking the MOSES board of directors to cancel WhiteWave's workshop. Please tell MOSES's leadership that we love this conference but it should not be for sale to the highest corporate contributor.

For too long Dean Foods/WhiteWave has purchased influence with many nonprofits running farming conferences across the U.S. and in the organic community. It's estimated that over the last 10 years, they have been the largest corporate contributor to organic nonprofits. They buy influence in the organic community and access to farmers the same way their lobbyists buy influence in Washington with large campaign contributions.

Help protect the reputation of the nation's largest organic farming conference. Please ask the MOSES board to cancel this inappropriate workshop or substitute marketing expertise from experts that truly believe in the values that have helped build the organic business industry.

Click here to sign the petition to protect organic agriculture and the MOSES conference from corporate influence.

---
Posted: February 24, 2014


(http://plone.environmentalhealthnews.org)Polychlorinated biphenyls, a toxic class of industrial chemicals that has been linked to cancer, lowered IQs and toxic effects on the immune, reproductive, nervous and endocrine systems and was banned in the United States and Canada in the 1970s, has recently been shown by researchers from Rutgers University (RU) to still be widely present throughout our environment.

In particular, PCB-11, a byproduct of yellow pigment manufacturing, was detected in nearly all samples of paper products sold in 26 countries and clothing sold in the United States.

Furthermore, scientists from the University of Iowa (UI) published a study in 2013 showing that 60 percent of women tested had traces of PCB-11 in their blood. And since this compound is "rapidly metabolized and excreted," the fact that it's being detected in people shows that we are "constantly exposed," said postdoctoral researcher Rachel Marek.

UI researchers wrote in 2010 that exposure to PCB-11 may come from inhaling, touching or ingesting the chemical. And in 2007, it was found in nearly every air sample taken near 40 elementary schools in Chicago.

Part of the reason for their ban in the 1970s is the fact that PCBs accumulate in animals and the environment, but PCB-11 is not as persistent and is metabolized more quickly by the human body, so its effects on health have not been studied as extensively. However, UI researchers reported last year that PCB-11 can disrupt cell signaling, and scientists from the University at Albany-SUNY said that PCB-9, which is similar to PCB-11, is more toxic than other PCBs.

Federal regulations allow byproducts of manufacturing to be included as "unintentional contaminants," including PCBs. These compounds "are defined as excluded manufacturing products or processes and are not regulated as long as they are reported to EPA and the PCB concentrations do not exceed specified limits," said Environmental Protection Agency spokesperson Cathy Milbourn.

In the RU study, researchers tested 16 pieces of US clothing, mostly children's items bought at Wal-Mart, all of which contained PCB-11. One kid's pajama top had 20 times as much PCB-11 on the front, which had yellow print, than on the back. PCB-11 has also been found in the New York-New Jersey Harbor, the Delaware River, the Houston Ship Canal, the Rio Grande, the San Francisco Bay and the Great Lakes in recent years.
---
Posted: February 21, 2014
Mike Adams, the Health Ranger, recently appeared in a feature interview with
WHDT 9 World News
' Gary Franchi to explain the dark secrets of artificial sweeteners.
For millennia, humans have used honey and sugar to sweeten foods, but in modern times, people concerned with calories have turned to artificial sweeteners. "Some early sugar substitutes were found to cause cancer, and other[s] have ill effects on health. Many critics charge these artificial additives pose danger of their own. And many people point out unusual ingredients that go into some sweeteners; Splenda, for instance, is manufactured using chlorine, and skeptics say such food additives also play havoc with the human metabolism. Aspartame has even been charged with causing brain tumors, heart attacks and even seizures," said Franchi, as he introduced Adams.
Adams then says that artificial sweeteners came into existence because people began saying that sugar was "bad." "[O]f course, there is a lot of evidence that processed, refined sugar does have detrimental health effects, but the artificial chemical sweeteners were then pushed as a healthy alternative that would help you lose weight [and] that was safe for diabetics, for example," the Health Ranger stated. "But as the evidence started coming out, because the American people were treated as, in essence, human guinea pigs by these companies manufacturing these chemicals, it turns out, well, saccharine then had to have cancer warnings and then aspartame now, for many years in fact, has been linked with those side effects that you mentioned."
"Part of the problem is that aspartame can break down into a small amount of formaldehyde, and formaldehyde is a neurotoxic chemical compound that has devastating effects on neurology, and this is why many scientists believe that aspartame is linked to seizures, or blurred vision, or headaches, or even possibly brain tumors as well."
Since artificial sweeteners were first introduced, we have "gone full circle," as many people would prefer natural sugar, and now businesses that sweeten "their products with real, unprocessed sugar are finding very wide consumer acceptance," said Adams.
"Aspartame is actually created with a genetically modified bacteria. Aspartame is really a special kind of amino acid compound, so it's created in a... factory, but it was first discovered in a laboratory. ... [I]t's really the waste product of a certain strain of bacteria, and then that is usually substantially cut or diluted, because raw, straight aspartame is very, very potent. You know, 200, 300, maybe 400, times sweeter than sugar gram per gram, so they tend to cut it and put fillers in it."
The fillers can be of major concern to consumers, Adams explains, because maltodextrin is often used, and that, in turn, is derived from corn, a huge amount of which is genetically modified. Another huge concern is high-fructose corn syrup, which can contain mercury because of the way that it is extracted. "Corn syrup, of course, is linked to diabetes and obesity and many other potential disorders and health issues, so everywhere you turn in this industry, there's something to really be concerned about. And that's why more people are getting back to honey and unrefined sugar or evaporated cane juice crystals and stevia... which is also a very safe and very likeable sweetener."
To watch the complete interview with Mike Adams explaining the hidden dangers of artificial sweeteners, watch the video above or click
here
.
---
Posted: February 20, 2014


(http://www.hayspost.com)The Kansas Health and Human Services congressional committee held a hearing on Wednesday for House Bill 2372, which, if passed, would require all municipalities in the state that fluoridate their water to warn consumers "that the latest science confirms that ingested fluoride lowers the I.Q. in children."

Fluoride has been linked to weakened bones and bone cancer, and a recent Harvard study shows that it can lower IQ by as much as seven points. "As an initial point, infants do not need to receive fluoride," said Michael Connett, a lawyer who led bill proponents by discussing the dangers of adding the chemical to drinking water. What he says is absolutely true and contradicts illogical recommendations put out by the American Dental Association in which they suggest that fluoride should be used in toddlers as young as six months, who still do not even have permanent teeth and are the most susceptible to the toxic effects of chemicals.

Since no conclusive fluoride testing has been done in the United States, committee members relied on questioning the bill's proponents to get relevant information. "I hope you understand our concern about creating a bill or creating a requirement based off inconclusive science, but we've also made laws based off of inconclusive science," Rep. John Wilson, D-Lawrence, said.

One opponent of the bill, Dr. John Neuberger, a professor in the Department of Preventive Medicine and Public Health at the University of Kansas School of Medicine, outright dismissed the Harvard study, saying it was inconclusive.

"The session closed without a vote from the committee," Hays Post reported.
---
Posted: February 19, 2014


(http://www.latimes.com)According the Los Angeles Times, the United States Department of Agriculture (USDA) has decided to close a beef slaughterhouse on Monday after it failed to meet sanitation standards.

The slaughterhouse, Central Valley Meat Co. in Hanford, California, will not be allowed to resume operations until coming up with a plan to correct its violations.

This is the same company that was shut down for a week in 2012 after Compassion Over Killing, an animal rights group, sent videos to the USDA of employees at the facility torturing cows with electric prods and by spraying them with hot water. Also, due to possible contamination with small pieces of plastic, the company had to recall 58,000 pounds of beef that would have been eaten by school children last September.

"[The USDA's Food Safety and Inspection Service] withdrew our inspectors and suspended operations due to insanitary conditions at the establishment. The plant's suspension will be lifted once we receive adequate assurances of corrective action," the agency said in a statement Tuesday.
---
Posted: February 18, 2014


(http://www.cdph.ca.gov)The California Department of Public Health (CDPH) is warning consumers that an edible cactus imported from Mexico is contaminated with a dangerous pesticide and should not be eaten.

The pesticide, monocrotophos, is organophosphate-based and has been barred from use in the United States since 1989. It has been found on cactus samples at levels as high as 5.8 parts per million.

The cactus products were sold in cases that were likely labeled with a sticker stating, "Comercializadora De Chiles, Selectos Nieto S. De R.L. De C.V." Individual cactus products did not have branding or labeling.

CDPH says that consumers should not try to wash the pesticide off of cactus products and instead should return them to the seller or dispose of them.

According the department's website, "No illnesses have been reported to date, but symptoms of acute poisoning may include sweating, headache, weakness, nausea, vomiting, hypersalivation, abdominal cramps, and diarrhea. Consumption of Monocrotophos can lead to neurotoxicity and permanent nerve damage."

The department says they are working with the FDA to identify responsible parties so that future shipments can be more closely examined.

"CDPH recommends consumers experiencing any ill effects after consuming cactus products consult their health care provider. Consumers that observe the product being offered for sale are encouraged to report the activity to the CDPH toll free complaint line at (800) 495-3232."
---
Posted: February 17, 2014


(http://www.medicalnewstoday.com)In a new study to be presented at the American Academy of Neurology's 66th Annual Meeting, researchers discovered that consuming foods containing vitamin C could lower one's risk of having a hemorrhagic stroke.

The two main types of stroke are ischemic and hemorrhagic. The first is caused by a blockage in a blood vessel preventing blood from reaching the brain. The second is more rare and deadly and occurs when a blood vessel ruptures in the brain.

"Our results show that vitamin C deficiency should be considered a risk factor for this severe type of stroke, as were high blood pressure, drinking alcohol and being overweight in our study," said study author Dr. Stephane Vannier of Pontchaillou University Hospital in France.

For the experiment, researchers measured the vitamin C levels in the blood of a group of 65 individuals who had experienced a hemorrhagic stroke and compared them to the vitamin C levels of a group of 65 healthy individuals. What they found was that, on average, those who had experienced a stroke had depleted vitamin C levels, while those who did not have a stroke had normal vitamin C levels.

Based on this study, consuming foods that contain vitamin C is a good way to stay health and reduce your risk of stroke. Some foods rich in vitamin C include chili peppers, guavas, bell peppers, thyme, parsley, strawberries, oranges, broccoli and even dark leafy greens like kale!
---
Posted: February 14, 2014


(http://medicalxpress.com)Smoking is sometimes seen by those with mental health issues to have benefits, and some health professionals are reluctant to address smoking in individuals with mental disorders in case cessation causes the problem to get worse. However, as is well known, smoking can cause great physical harm and increases a person's chances of developing cancer or suffering from respiratory or cardiovascular diseases.

In order to find out what effects cigarettes have on mental health, researchers from the United Kingdom analyzed "the results of 26 studies of adults that assessed mental health before smoking cessation and at least six weeks after cessation in the general population and clinical populations (patients with chronic psychiatric and/or physical conditions)," according to a press release on MedicalXpress.com.

Taking differences between the studies into consideration to minimize bias, the researchers measured facets of mental health including anxiety, depression, positivity, psychological quality of life and stress. On average, the participants were 44 years old, smoked about 20 cigarettes daily and were followed up for around six months.

The researchers found that those who quit smoking saw improvements regarding depression, anxiety, stress, psychological quality of life and positivity compared to those who continued smoking. This association held strong in the general population as well as clinical populations with mental health disorders.

Although scientists often warn not to infer causation from correlation, the authors of the study write that "smokers can be reassured that stopping smoking is associated with mental health benefits."

So, stopping smoking reduces a person's chances for developing chronic, deadly disease, reduces stress, anxiety and depression and improves mental health and quality of life. That, in addition to the money unnecessarily being thrown away, provides a lot of reasons to quit smoking, or never start in the first place.
---
Posted: February 13, 2014


(http://www.cornucopia.org)According to the Cornucopia Institute, "The Environmental Protection Agency (EPA) released a final rule on February 12 creating an exemption for residue tolerance levels in soy foods and feed for the biological pesticide Bt used in GMO crops. Similar exemptions have already been approved for corn and cotton food and products."

Bacillus thuringiensis, the bacterium commonly called Bt, naturally produces a toxin that kills certain insects. Because of this trait, scientists have spliced Bt genes from the bacterium into GMO crops to make them more resistant to pests.

"EPA concludes that there is a reasonable certainty that no harm will result to the U.S. population, including infants and children, from aggregate exposure to residues of Bacillus thuringiensis Cry1F protein," the agency wrote.

There have been a multitude of studies showing that GM foods can cause harm. "Authors of a recent study using the Bt toxins concluded that these proteins can cause harm to humans and livestock, and the risk increases with long-term exposure and with higher levels of toxins in our food," reported Cornucopia.

You can view and comment on the EPA's final rule at FederalRegister.gov. Objections to the final rule and requests for a hearing must be filed by April 14.
---
Posted: February 12, 2014


(http://newscenter.berkeley.edu)Chronic stress generates long-term changes in the brain that may make people more prone to mental problems, such as anxiety and mood disorders, according to researchers from the University of California, Berkeley.

Doctors have already known that people suffering from post-traumatic stress disorder (PTSD) and other stress-related problems have brain abnormalities like differences in the amount of gray matter versus white matter. But this new work helps scientists as they try to discover how those changes are made.

Daniela Kaufer, UC Berkeley associate professor of integrative biology, and her colleagues found through a series of experiments that chronic stress causes the body to produce fewer neurons and an excess of myelin, white matter, "which disrupts the delicate balance and timing of communication within the brain," according to UC Berkeley's press release.

The researchers focused only on one part of the brain called the hippocampus, which plays a role in various emotional disorders and regulates memory and emotions, but their results could have wide-reaching implications for conditions such as schizophrenia, autism, depression, suicide and PTSD.

Kaufer's findings could explain how stress is related to some changes in brain connectivity, for example, in people with PTSD. "You can imagine that if your amygdala and hippocampus are better connected, that could mean that your fear responses are much quicker, which is something you see in stress survivors," she said. Other connections, such as to the prefrontal cortex, which moderates responses, might not be as strong, so the ability to shut down responses is impaired, leading people to have much larger responses than they normally should.

The decreased number of neurons could also explain how chronic stress affects learning and memory.

Kaufer is continuing her research on the effects of stress on the brain, as well as different therapies to treat that stress, including exercise and antidepressants. Some natural methods to help mitigate chronic stress include finding times to laugh, gardening, enjoying time outside and exercising, which can include biking, walking, hiking, rock climbing or anything else that's fun or takes your mind off of stress. Yoga and meditation are great ways to deal with stress too.

The study is titled "Stress and glucocorticoids promote oligodendrogenesis in the adult hippocampus" and was published in Molecular Psychiatry.
---
Posted: February 11, 2014


(http://www.huffingtonpost.com)Due to a string of illnesses that have sprung up in Texas, Illinois and North Dakota, the Food and Drug Administration is recalling all bags and lot numbers of Uncle Ben's Infused Rice Products produced last year.

As reported by The Huffington Post, "The FDA is warning food service companies and consumers not to use the following Uncle Ben's products (which are most commonly sold to food service companies that then distribute to schools, hospitals and other places, but can be purchased online by consumers):"


Uncle Ben's Infused Rice Roasted Chicken flavor (5- and 25-pound bags)
Uncle Ben's Infused Rice Mexican flavor (5- and 25-pound bags)
Uncle Ben's Infused Rice Garlic & Butter Flavor (5-pound bags)
Uncle Ben's Infused Rice Pilaf (5-pound bags)
Uncle Ben's Infused Rice Saffron flavor (5-pound bags)
Uncle Ben's Infused Rice Cheese flavor (5-pound bags)
Uncle Ben's Infused Rice Spanish flavor (25-pound bags)
Anyone who has purchased these products should return them to the seller or dispose of them. According to the FDA, symptoms occur "very shortly after consuming the rice produce product and pass within 30 to 90 minutes" and include nausea, skin flushing, red rash that itches/burns and headache. Other Uncle Ben's products are not affected by the recall.
Show More