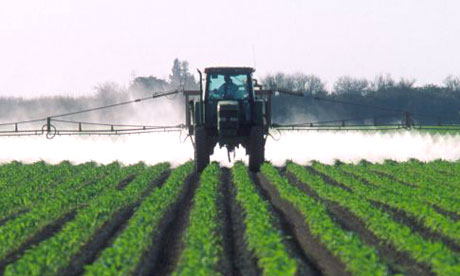 (
http://www.nytimes.com
) On Tuesday, researchers from the European Food Safety Authority (EFSA) recommended further restrictions on the use of neonicotinoids in the wake of new data which indicate that the class of pesticides "may affect the developing human nervous system" of children. Neonicotinoids have been linked to declining bee populations, and three of them were the subject of rigorous new restrictions passed in Europe earlier this year.
The two pesticides that the researchers focused on were imidacloprid and acetamiprid, which they say are only safe to use in smaller amounts than what is currently allowed. Scientists decided to review the use of these pesticides after a Japanese study raised safety concerns last year. The U.S. Environmental Protection Agency has also conducted research showing adverse effects of neonicotinoids on honey bees, but the agency has yet to be compelled to take action.
According to the
Daily Mail
,
One study with rats showed that offspring exposed to imidacloprid suffered brain shrinkage, reduced activity of nerve signals controlling movement, and weight loss.

Another rat study found that acetamiprid exposure led to reduced weight, reduced survival, and a heightened response to startling sounds.
Richard Breum, a spokesman for Bayer CropScience, who profits from imidacloprid, dismissed the scientific research done in Japan, because they used rat cell cultures and not humans as test subjects, so, according to him, "Imidacloprid has no developmental neurotoxicity potential in humans."
Meanwhile, the EFSA stated that it "recognizes the available evidence has limitations and recommends further research be carried out to provide more robust data," but added that "health concerns raised in the review of the existing data are legitimate."